Integrated Care System Development
Integrated Care Strategy, Models and Solutions
NHS England outlined ambitions for sustainability and transformation partnerships (STPs) to evolve into 'integrated care systems' (ICSs). They are a response to the growing financial and service pressures and work to put in place new care models that integrate services 'to provide joined up, better co-ordinated care breaking down the barriers between GPs and hospitals, physical and mental healthcare, social care and the NHS'.
We work in partnership with health and social care systems to help organisations develop their vision of an Integrated Care System and bring about system transformation that:-.
is supported by evidence-based, international best practice models, pathways and interventions

promotes a person centered, coordinated and collaborative approach across health and social care

provides the right care, in the right place, at the right time, at the right cost, and is delivered by the right people

improves the engagement and experience of patients in their care

widens the choice of appropriate care for patients and their primary health team

places less dependence on acute hospital care through integrated care pathways

focuses on improving outcomes and quality

secures better health, care and value for all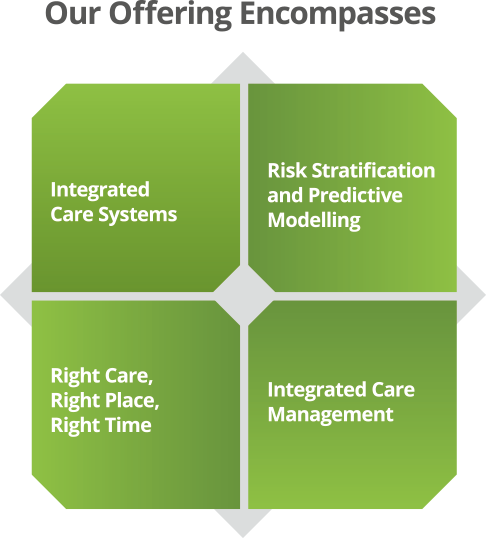 We have an extremely experienced delivery team who are skilled in system-wide transformation and change management, including detailed experience and knowledge of the complex financial and contractual environments across the full spectrum of the health and social care footprint. Our extensive work across the NHS gives us a unique platform to connect commissioners, providers, local authorities, specialist commissioning organisations, local community bodies – at all tiers of engagement. We understand how services connect. How patient care is delivered. How changing a variable in one sector, can have a significant impact on another service.
We have directly supported a first wave Integrated Care System on the design and development of their ICS. Whilst there are several national and international integration models that offer valuable learnings and insights, the highest performing systems are those that most effectively promote innovation while continuously recalibrating their finite health and care resources to the changing needs of the local population. This will only be successful by capitalising on the knowledge held by the local citizens, patients, providers, and commissioners to develop a successful ICS.