We are a multi-disciplinary
team with a core purpose to
partner with you to transform
health, care and value.
We provide a holistic end-to-end service focused around patient needs. We place huge emphasis on implementing and embedding the changes required to improve services for patients.
We have a deep, in-depth knowledge of the NHS from both a commissioner and provider perspective and are fully conversant with the relationships between health, social care and the wider public sector delivery system.
We are passionate about engaging, involving and working alongside our clients. Helping you to develop in-house capabilities, knowledge and skills through informal skills transfer such as coaching and practical support and leaving you better equipped to respond to future challenges.
Working in partnership with you; we Diagnose, we Design solutions, we Deliver the change and we Demonstrate that it works. We call it our Diamond Approach.

It means we will be with you from start to finish, embedding the behavioural and cultural change required to make the changes stick and leave a legacy of sustainable improvement. It informs all that we do together.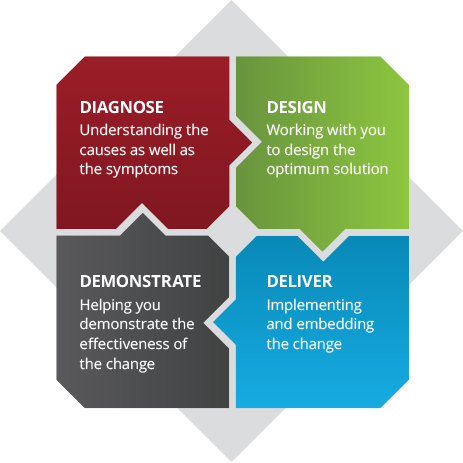 It means we will be with you from start to finish, embedding the behavioural and cultural change required to make the changes stick and leave a legacy of sustainable improvement. It informs all that we do together